In the age of digital marketing social media is now one of the biggest platforms to create brand awareness and increase sales, with that being said we recently interviewed Jessica Lam, the Co-founder of TALACKA & CO a Software Development and Data Protection Company. In this podcast episode we discuss the importance of why businesses should be concerned with being data protected online and its benefits. When it comes to creating social media strategies, incentive techniques such as online prize draws and competitions are becoming a popular way of increasing followers and brand awareness  online. Social media accounts that host competitions, are more likely to achieve 70% faster follower growth, compared to those that don't, this is because competitions can create a buzz and excitement about a brand or a particular product. When it comes to creating engagement many brands, opt for using incentives as a call for action, for their consumers. This marketing technique, if you pay close attention is used by many companies in different industries, as it can be used as a way to attract new customers or rewarding existing ones. If you're unaware of this technique, an incentive is defined by Google as "A thing that motivates or encourages someone to do something" or in marketing terms: they're inducements given to the customer to trigger a short-term response.
Some examples of different incentive techniques are:
Credit options: "Buy now pay in 6 months' time" or "buy now pay in 365 days" does that sound familiar? This incentive gives customers a further push to purchase if money is an issue at that moment, by providing a credit option. For example, those in the automotive industry tend to use incentive techniques such as credit options when launching new cars to encourage purchase.
Free trails: Amazon prime and Spotify premium 30-day trails, do they ring a bell? These are examples of free trails that are put in place to get you to eventually sign up for the real service. Below are some of the goals achieved by this method:
To educate; about the service or product, and persuade them to continue with the service
Develop trust; Once people trail their service, the balls in their court on whether they'd produce the desired action or not rather than persuaded by the Amazon or Sportify
Free samples: Another technique used by many businesses who launch new products often introduce a product into the market through free samples, and great example of this technique is when Gillette launched Gillette Fusion Power 'Phenom' razor. They gave out free skincare kits in 50 Superdrug stores and in those selected trail stores, the sales of the razor were third times higher, than the stores that didn't give out free samples. Below is the goal that was achieved by this method:
Remove entry barriers; When it comes to know products people are less likely to purchase a product they're unfamiliar with. However, through a free sample, people are more likely going to purchase the new product as they're now familiar with and have developed their own idea of the product
increase product awareness; Free samples can help people become aware of a new product, and will more likely recommend it to a friend, when they've formed their own ideas of the product based on their own interaction
Now you're probably wondering what incentive technique can you use to create online engagement and it's this simple incentive technique, competitions. The key element we're focusing on is its ability to create engagement by offering participators something to win in.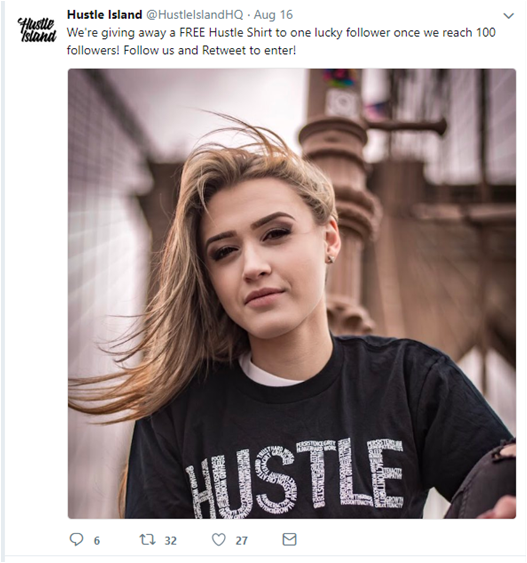 A great example of an online competition is shown in this tweet by an online business called Hustle Island, whom used a prize draw to entice t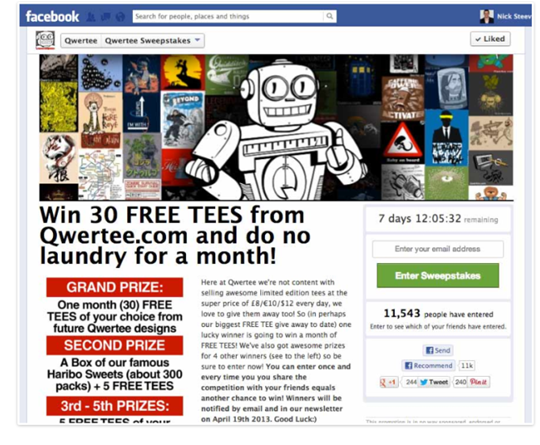 heir existing followers to retweet their post. Their goal was to increase their followers and to boost their online awareness on Twitter by creating engagement from existing followers. Their approach of using their own followers to retweet this image meant that they would most likely obtained likeminded followers that are interested in what their brand stands for and does.
Another successful example of a brand conducting an online competition on their social media is Qwertee, on their Facebook page.  They achieved over 100,000 total likes on their Facebook page and since then, their followers have more than doubled. What all entrants had to do was like Qwertee's facebook page and send their email to be in with a chance to win. For example, here Qwertee not only achieved an increase in their followers but also obtain a personal form of contacting their followers for future marketing activities, so a mailing list was created as a result of this incentive from people who were interested in their product.
As you can see these two examples had very successful results, and they've inspired you to create your own. However, you're probably thinking "how do can I create a competition or a prize draw that will be effective?", luckily, we've saved you some time on that research, here's how to create a successful social media competition.
How to create an effective competition plan
Step 1 – Create a goal
Before creating a competition, you need to specify what the goal of the competition is. Whether it's to great engagement on your company's social media pages, increase brand awareness or even to create a channel for collecting data. Your goal has to be clear.
Step 2 – Create criteria for entry
After establishing your goal, make your criteria to enter the competition relevant to your objective. If your goal is to increase brand exposure and increase like-minded followers, then you may want to look at this example of a successful competition criteria by ᴍᴇʀᴀᴋɪ - traveler's notebook. They described exactly what participants have to do in order to enter their giveaway, as a result they received over 408 likes on this post, which means over 400 people entered this competition.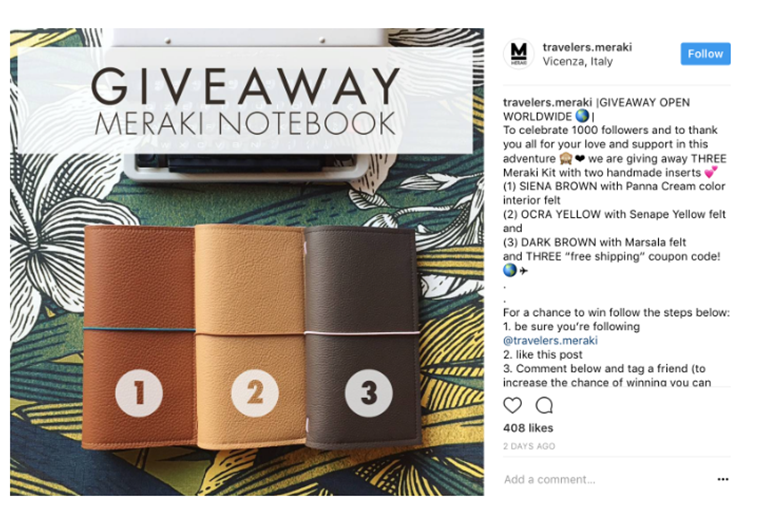 Step 3 – Understand your audience
When it comes to creating a competition it's extremely important to understand who your audience is, what social media platforms and which one specifically do they use the most? When you have obtained that information, you'll know what social media platform you should focus your competition on and advertise on the most.
Step 4 – Create an eagerness to enter
A great way to create eagerness and generate quick action from your followers is to make it more exclusive, by creating a time-limit to enter and/or quantity limit of the prizes can do the trick.
This example is again from a competition by ᴍᴇʀᴀᴋɪ - traveler's notebook on their Instagram account.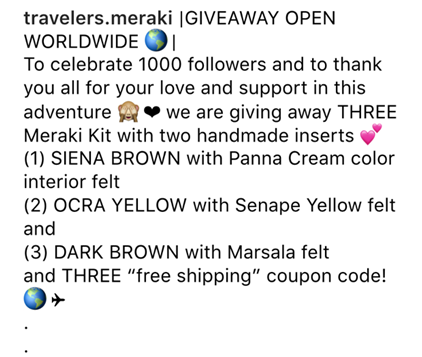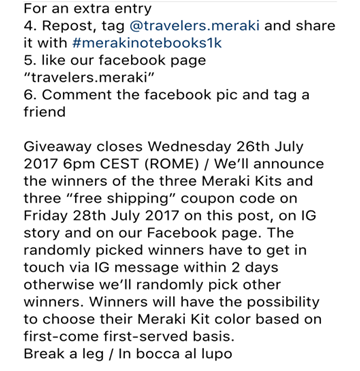 Step 5 – Make it a prize they wouldn't want to miss
Finally, when it comes to creating an effective competition or a prize draw, it's about creating a competition that will be appealing to your followers. What's in it for them? Is the prize something that falls in line with their likes?  These are the elements that can affect your competition's results negatively or positively. The prize has to be of value to your followers for it to be worthy of entering.
With these five steps you're well on your way to creating a successful marketing strategy to increase traffic to your social media accounts. In this post we only touched on a few social media platforms another great platform to use would also be Pinterest. Interest? Then read Gemma Crane's post on how to use Pinterest as a marketing strategy.
Conclusion
Now, let's recap the benefits of using competitions – They create a buzz over a product or service, it can increase the number of followers you have and most importantly, it's a great tool to drive traffic to your social media pages and creates engagement. However, in conclusion, competitions will not lead to this outcome if it's not orchestrated correctly; The prize isn't something your followers' desire and there's no sense of exclusiveness of entering, then this is a recipe for disaster. From the examples given throughout this post, there is not denying the engagement these brands received by using competitions. Now what's left is for you to test it out for yourself, however, make sure to go through our steps to ensure you get it right the first time.
We hope that you enjoyed learning about how incentives still are relevant in a technology driven world and can be used to help you achieve many of your marketing goals.
Let us know whether you used our 5 steps to create your own competition, we'd love to see your competitions tag us on twitter: @BeTheBees and Instagram: @bethebees_.
We'd love to hear your thoughts on any of the incentive techniques mentioned or even your results from using them, share with us today your thoughts.
Please follow and like us:
Get Amazing Stories
Get great contents delivered straight to your inbox everyday, just a click away, Sign Up Now